Onward offers many services to our clients and have bundled them together in convenient service plans based on our experience and our clients' needs.
Plans which aim to guide your growth, not restrict it. Together, we'll move your business onward!
Bronze Managed Services Plan:
Our Bronze plan offers essential monitoring and maintenance services to ensure the stability and security of your systems. It includes proactive system monitoring, patch management, and basic support, providing a solid foundation for managing your IT infrastructure.
Silver Managed Services Plan:
Our Silver plan builds upon the Bronze plan by adding enhanced monitoring and support features. In addition to proactive system monitoring and patch management, you'll benefit from faster response times, extended support hours, and regular performance optimization to keep your systems running smoothly.
Gold Managed Services Plan:
Our Gold plan is the comprehensive solution for businesses seeking top-tier managed services. It includes all the features of the Silver plan, with the addition of advanced security measures, 24/7 support, proactive disaster recovery planning, and strategic IT consulting. With our Gold plan, you can focus on your core business while we handle all aspects of your IT infrastructure.
Who knew "world-class" IT could be so easy?
Tech Stacks Trusted by SMB's Nationwide
Bring your desired business outcomes to life faster and securely with Onward. Your business benefits from:
9

Tailored onboarding and professional training;

9

Reliable and customized IT solutions;

9

Seamless solutions across your organization.


24/7 Network Operations Center

Critical infrastructure and network connections are monitored 24/7 for outages and performance issues. Onward Technologies reporting platform keeps you informed of critical issues and resolution status in real time.


Remote Monitoring and Alerting Platform

Our state-of-the-art monitoring platform provides a secure connection for our support team to assist your users. We can deploy software, troubleshoot issues, and provide updates in real time to any device.


Windows/Office365 Update management

Patching and updates are fully automated and customizable to your preferred maintenance windows. Any type of update can be automated and enforced, and monitoring patch status for each device is easy in our Remote Monitoring Platformt.
We install, administer, and maintain Exchange Online, Exchange On-Premise, Google Apps for Business, and other email systems. User management, licensing, mailbox cleanup, and more are included.
We are certified to support Office365, QuickBooks, NetDocuments, iManage, and many other line-of-business applications. Your users will have the best team available for their everyday issues.
File and server backup, application backup, verification, and testing are all included. We support many of the most common backup solutions including StorageCraft, Datto, Veeam, and more.


Unlimited Remote Support

There is no limit to the number of service requests our clients can submit. Phone, email, and interactive remote support are unlimited.
Physical problems with workstations are reviewed and addressed by our certified technicians. We handle warranty service and repair for most major workstation vendors including Lenovo, Dell, and HP.


Per-User Flexible Contracts

Your users will receive support for their applications on any device – office computers, home computers, and mobile devices. Modern workforces require flexible support agreements.


Compliance/Risk Management

Cybersecurity audit responses, quarterly business reviews, and annual risk reviews are included.
A cross-functional Technical Account Manager is assigned to help manage day-to-day support, IT department issues, and strategic planning.


Unlimited Onsite Support

Some issues may require onsite support to resolve. Gold agreements include onsite support as needed. Onsite support is billed for time and materials with Silver and Bronze agreements.
Learn how Onward can help transform your business with the right Service Plan
Empowering People and Businesses to Succeed
Leave legacy tech behind, with the help of trusted advisors. Onward helps companies make the right IT product, platform, and service choices.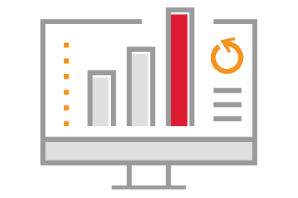 Align technology, people and processes. Future-proof your technology and respond faster to incidents.
Our Compliance and Risk Management services help ensure the safe, smooth and compliant operation of your business.
We've Been Building Worry-Free IT For Over 35 years
Working with our trusted team of IT professionals not only gives you the expertise you need, but also delivers the best value for your budget. We focus on your IT so you can focus on what you do best!